As of November 2nd, this site will turn 10. It has been fun, but it's time to move on to bigger and better things. Our contribution rate has diminished over the last few years. We are now the skeleton crew keeping the old boat afloat. While the cost is nominal, I've come to the conclusion there is no longer much value to the community at large. It has cost around $9/month for the hosting service.
Eric stated it best: "The original purpose of the site, in my mind, was to update current conditions at hot springs between editions of the books, and to the extent that's happening it's being done on other sites including Facebook and people's blogs, rarely here anymore."
As much as I hate to say it, as of November 2nd, 2017, this site as you know it will disappear.
Some stats over this last calendar year: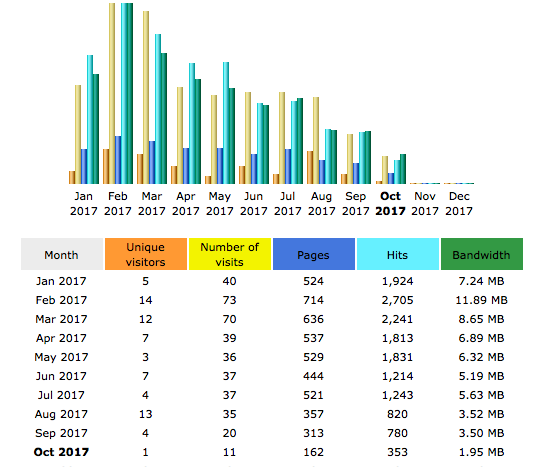 I've already disabled new user accounts and will be working on other facets to prepare for mothballing. I've already run full backups, and will do so again before pulling the plug.
Archives can be found on the Library of Congress site's Web Archives, but they do not have this site as their focus is on far more important topics (
https://www.loc.gov/webarchiving
) However, there is an archive on the waybackmachine but the last pull is pretty old. (
http://archive.org/web/web.php
)
One of my tasks will be to ensure this site is captured by archive.org before the site is shuttered.
That all said, be sure you pull the data you'd like to keep over the next 3 weeks. I'll keep the site open for posting by current members but may shut that off in the final days.
--Bruce, Eric, & Paul, your faithful admins.
--Kim, Jeff & Linda, Wayne, your faithful moderators.
(Edit: 31Oct17, 8:55 Pacific - Changed Subject)